We live in a fast-paced, modern society. People can be a little time poor and finding something healthy to eat when we are on the go can be difficult.  Because of these reasons some people choose to eat fast food even when they are trying to make healthy lifestyle choices. Fortunately, fast food chains are aware of the customers desire to be healthy and are now offering healthy options that are not high in fat and calories.
We have put together this go-to guide to help you when you are on the go to make a healthy meal choice at a fast food chain. Below the four main fast food chains are listed with their healthy meals that they offer on their menus and the breakdown of the meals nutritional value.
McDonalds
Healthy choice #1: Premium Grilled Chicken Classic Sandwich and Fruit & Walnuts (560 calories)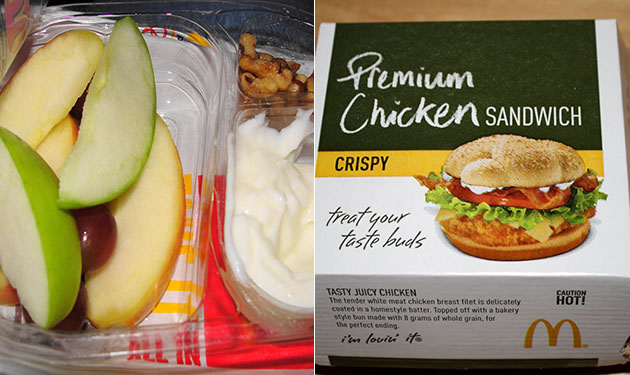 Premium Grilled Chicken Classic Sandwich that is served at McDonalds has a total of three hundred and fifty calories. This meal offers eighteen grams of protein, nine grams of fat, forty two grams of carbs, and eight hundred and twenty milligrams of sodium. The bread that the bun is made from is made with eight grams of whole grain, adding three grams of dietary fiber. If you order your sandwich without mayonnaise then you will reduce the calorie and fat content. By enjoying some Fruit & Walnuts on the side will add more fiber, protein, and taste to your meal.
Healthy choice #2- Premium Southwest Salad with Grilled Chicken (with low-fat dressing) and Fruit 'n Yogurt Parfait (470 calories)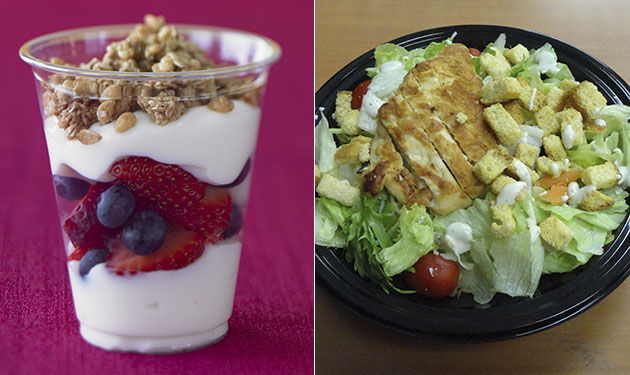 The Premium Southwest Salad with Grilled Chicken is McDonalds healthiest salad. This salad has two hundred and ninety calories, twenty-seven grams of protein, eight grams of fat and six hundred and fifty milligrams of sodium. The premium southwest salad with grilled chicken is without a dressing. You could possibly pour some Newman's Own Low Fat Balsamic Vinaigrette dressing on the salad for just thirty more calories. For dessert, you could try the delicious Fruit 'N Yogurt Parfait which will add another one hundred and fifty calories.
Burger King
Healthy choice #3- Veggie Burger and Garden Salad (450 calories)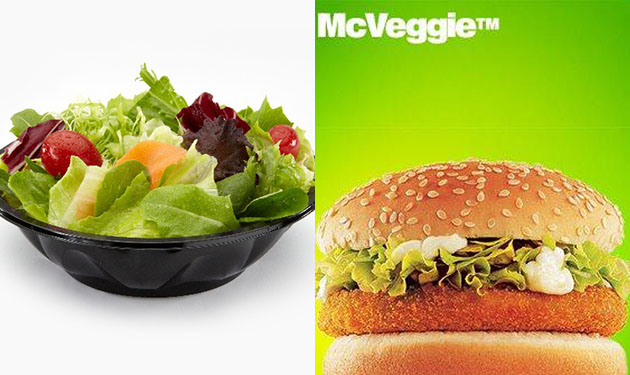 Shout out to all the vegetarians out there, did you know that Burger King offers a veggie burger? It is the only fast food chain that does and it is delicious! The veggie burger is served with lettuce, tomatoes, red onions, ketchup, and mayonnaise. Burger King's veggie burger includes four hundred and ten calories, twenty-one grams of protein, forty-eight grams of carbs, sixteen grams of fat, and nine hundred and sixty milligrams of sodium. You could possible add a Garden Salad for forty more calories. Leave off the mayo from the veggie burger and add half a packet of Light Italian Dressing to the salad to get the same total calorie count. You won't be disappointed!
Healthy choice #4- Whopper Jr. and Apple Slices (370 calories)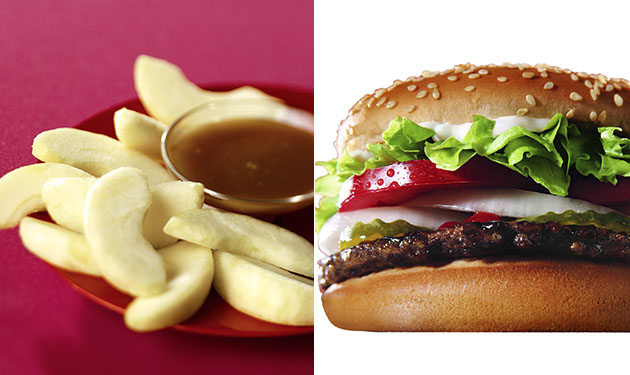 Who doesn't love a whopper? Well we have found a way that you can still enjoy a whopper burger without feeling guilty. We have come up with a healthier alternative to your favourite burger, it is the Whopper Junior. The Whopper Junior has three hundred and forty calories, fourteen grams of protein, twenty eight grams of carbs, nineteen grams of fat, and five hundred and ten milligrams of sodium. Include some Apple Slices for a healthy dessert and you will be adding just thirty calories, a full serving of fruit and enjoying a delicious meal.
KFC
Healthy choice #5- Grilled Chicken Drumsticks, Green Beans, and Mashed Potatoes with Gravy (325 calories)
Healthy choice number five sounds delicious doesn't it? Well, it is surprisingly good for you as well. Two Grilled Chicken Drumsticks have one hundred and eighty calories, no carbs, eight grams of fat, five hundred and eighty milligrams of sodium, and twenty-six grams of protein. Add a side of Mashed Potatoes and gravy for another one hundred and twenty calories and by including a side of green beans to your meal you have made some healthy choices by adding a further twenty-five calories. You can reduce the fat and sodium content of this KFC meal significantly by removing the chicken skin and not including the gravy.
Healthy choice #6- Grilled Chicken Breast, Buttermilk Biscuit, and Corn on the Cob (470 calories)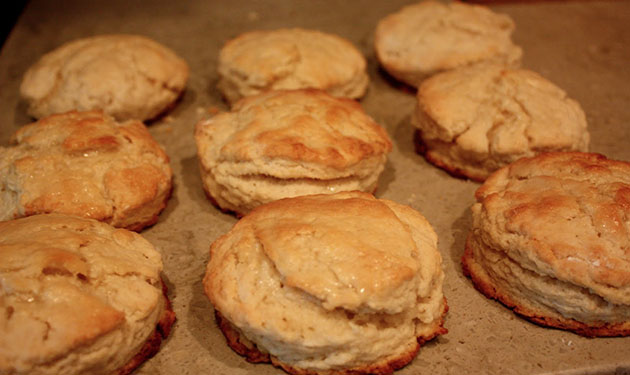 The KFC biscuits are very popular with most consumers and they are often included in a meal. So we have put together a healthy meal choice that includes you favourite treat so you don't feel like you are missing out. A Grilled Chicken Breast has two hundred and twenty calories, no carbs, seven grams of fat, seven hundred and thirty milligram of sodium, and forty grams of protein and is a healthy option. A KFC Buttermilk Biscuit has one hundred and eighty calories, while a Corn on the Cob side has just 70 calories.
Jack in the Box
Healthy choice #7- Chicken Teriyaki Bowl (692 calories)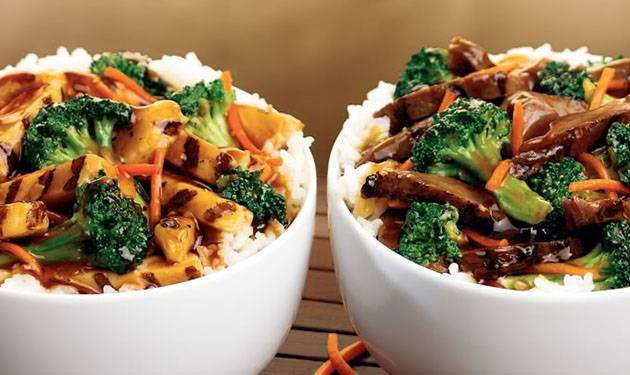 This meal does have one of the higher calorie counts and carbohydrate counts on our list, however, the chicken teriyaki bowl is low in fat, high in fiber and protein. The jack in the Box's chicken teriyaki is a wholesome meal that has great results in the fat intake. If you can not eat all the rice that is served then it will be nutritious and healthy.
Healthy choice #8- Grilled Chicken Strips and Side Salad with Low-Fat Dressing (375 calories)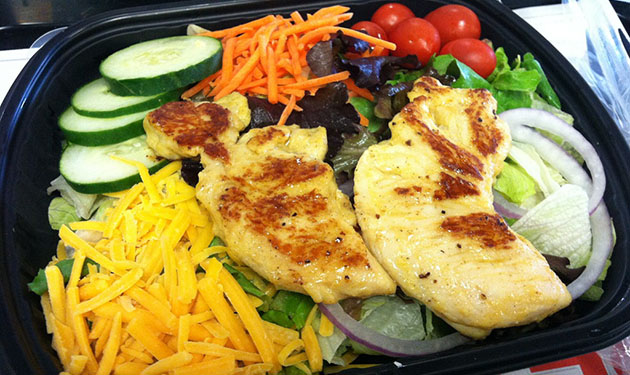 A 4-pc. order of Grilled Chicken Strips has just 250 calories, 7 g fat (2 g saturated), 1,010 mg sodium, and 43 g protein. A side salad adds just about 50 calories, plus another 75 calories and 1.5 g fat for Low Fat Balsamic Vinaigrette dressing (versus the 290-calorie house dressing).
The three top tips to make any fast food meal healthier
Say no to all diet drinks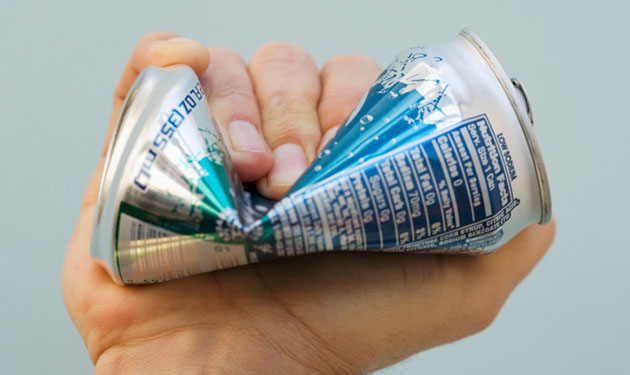 You may think that you are making a healthier choice when ordering a diet soda. However, the artificial sweeteners found in the no-calorie, diet sodas cause your body to release insulin, leading to weight gain and other critical health problems. The fast-food chains that we have included in our go-to list all offer bottled water, or free water from the fountain, unsweetened iced tea or black coffee which are all healthy drink options to enjoy with your meal.
Make healthy condiments choices
Be aware that condiments consist of a large amount of sugars, fat and calories. If you can consider skipping condiments all together than your health and your waistline will thank you! If you think you can't enjoy your meal without including a condiment such as ketchup, mayo or any other spreads then it is best to add these condiments yourself and only add a little bit at a time.
Go online before heading out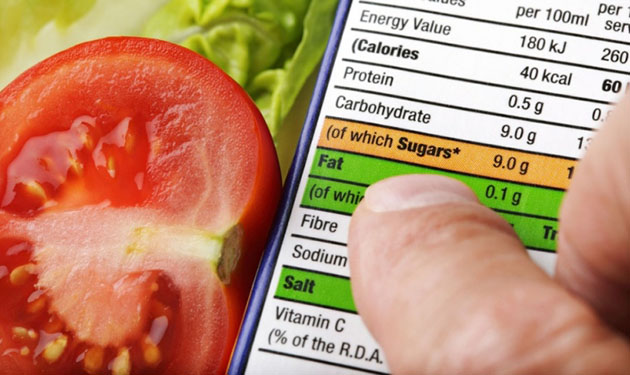 If you can find the time, do your homework before dining out. The fast-food chains have nutritional information on each of their websites and some even include nutrition calculators. When you have this type of knowledge before arriving at the fast food store you will have more chance of choosing a meal that is healthy as opposed to something that only looks healthy but is hidden with high calories and fats.
So there you have it eating out in fast food chains doesn't have to mean you make an unhealthy eating choice.
Happy healthy eating!