Everyone knows how delicious a cold beer is with a juicy burger or a plate of nachos. But have you ever considered what might happen if you used the beer to cook the delicious meals you crave such as a burger or even bread?
Cooking with something you'd be happy to drink is a great way to expand your culinary horizons and add some extra flavor to your meals. So next time you're looking to add a twist the norm, add some beer to your menu and you could be onto a winner.
1) Beer Battered Onion Rings from Picture Perfect Meals
Who doesn't love an onion ring and if you add the magic of beer, those onion rings just got a whole lot tastier. Use the beer of your choice and a little bit of chili pepper to add flavor, fry them up, and they'll be gone in no time. You'll soon find you won't even bother making them any other way when you get to wrap your hands around this amazing taste sensation.
2) Bacon and Chive Beer Bread from Pastry Affair
Super simple and delicious to eat, this savory bread will please the masses and add a new twist to your favorite bread recipe. Perfect for a winter's night or a dinner party, this bacon and chive beer bread is likely to enhance any menu. Add in some tasty bacon and a few herbs and you have a delicious savory bread that your guests will be craving for many more dinner parties to come.
3) Mushroom and Stout Pot Pies with Sweet Potato Crust from The First Mess
When you think pies, you'd be forgiven for expecting a beer with that menu item, but what about adding them both together for a special vegan pie experience. Mixing mushroom and stout will create an enviable combination that you won't want to finish. Dark and heavy, the stout beer works to add the depth of flavor to the pie and compliments the mushrooms and ingredients to a tee.
4) Beery Black Bean and Pork Soup from Bev Cooks
Here is a menu item that will tick all of your boxes – beer, beans, and pork! This jackpot winning dish is ideal for filling up your home with the goodness you can only get from a hearty soup. You can add some extra flavor to your soup by sprinkling on sour cream, salsa and some cilantro for that extra little bit of yummy goodness.
5) Beer and Butter Poached Lobster with Saison Risotto from The Beeroness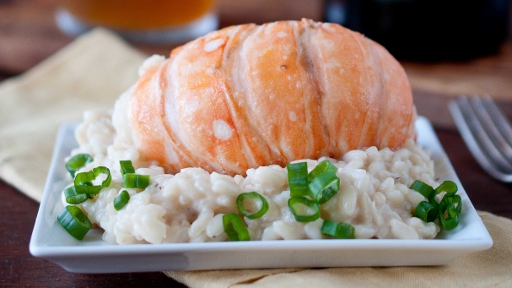 Seafood lovers unite! The dish you're going to want to get your hands on is this beer with butter poached lobster with risotto. Firstly, who's going to say no to lobster and beer and secondly, how amazing is risotto with basically everything? You're onto a winner with this dish and you won't be disappointed with this seafood and beer combination. Hold onto your hats, this beer menu has just got started.