Finding a perfect way to find local connections and businesses on Google+ is still a work in progress. Hundreds of millions of people have joined the Google+ member community however they are finding it a bit of hard work searching for those connections that they desire. Social networking platforms such as Facebook and LinkedIn have easier search tools at the moment; however, there are some ways to successfully find both businesses and connections in your area via Google+.
Below are some helpful tips to successfully search for contacts and businesses on Google+.
1. Google+ Search
When starting your hunt for a local business or connection start at the Google+ search tool. It is beneficial if you use multiple keywords which will improve your search results. Ensure that you include quotation marks and be as specific as you can be. For example, if you are searching for people in Los Angeles, California, then ensure that you enter "Los Angeles" and include "California" in the search field as well.
2. Google+ Local Business Search
On the Google+ profile there is an icon on the left sidebar that says "Local". Click on that icon ('More" may be there instead click on that to reveal "Local") then you will be directed to a page with a list of Google+ pages that have identified the desired location and have been linked by a page administrator.
3. Find People on Plus
The Google+ directory called FindPeopleonPlus is a search tool that identifies over forty-five million Google+ users. Obviously, that is not the total Google+ users however this search tool is worth a go and is easy to use. You just have to enter the keywords to start searching. FindPeopleonPlus does have the ability to search by "Places Lived" which is a handy way to search through Google+ users profiles by country, state or city.
4. Google Search
The Google Web search is a more advanced search tool that could also be helpful when trying to find a local connection on Google+. You may need to get inventive with the search terms you use however you may get some good results. A common trick when searching for people on Google+ is first to explore the site for a specific location while including the keywords "places lived".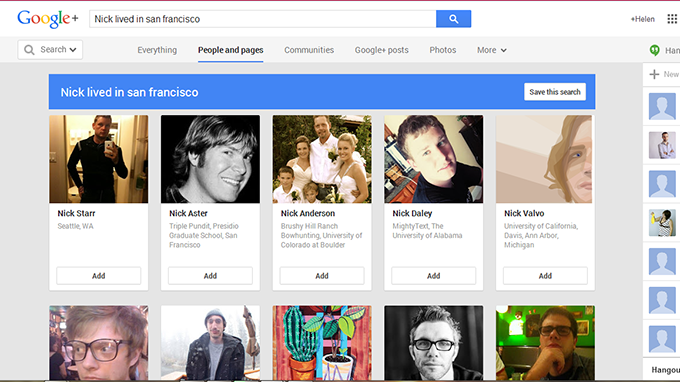 Glen Cathey of Boolean Black Belt-Sourcing/Recruiting takes this search a step further by changing the search string to look like this:
site:plus.google.com "lived * san francisco"
In both of the above examples, you can exchange "lived" for "lives" and see how the results change. You can also add additional search terms to narrow down your results further.
5. Google Chrome Extensions and Apps
Another option when searching for local information on Google+ is to use Google Chrome extensions and apps. These options may help you find the people you are looking for on Google+. Google Chrome extension allows you to search public profiles and content that has been published using keywords. Testing these options may help you find the information that you require.